Adult Secondary Education (ASE)
High School Diploma & High School Equivalency
Are you ready to take charge of your future? Earning your high school diploma or passing a high school equivalency test like the GED or HISET can open up a world of opportunities! These options prove that you have mastered the essential skills and knowledge that come with a high school education. With this achievement under your belt, you can pursue your dreams and unlock countless possibilities for success. Don't wait any longer to invest in your future!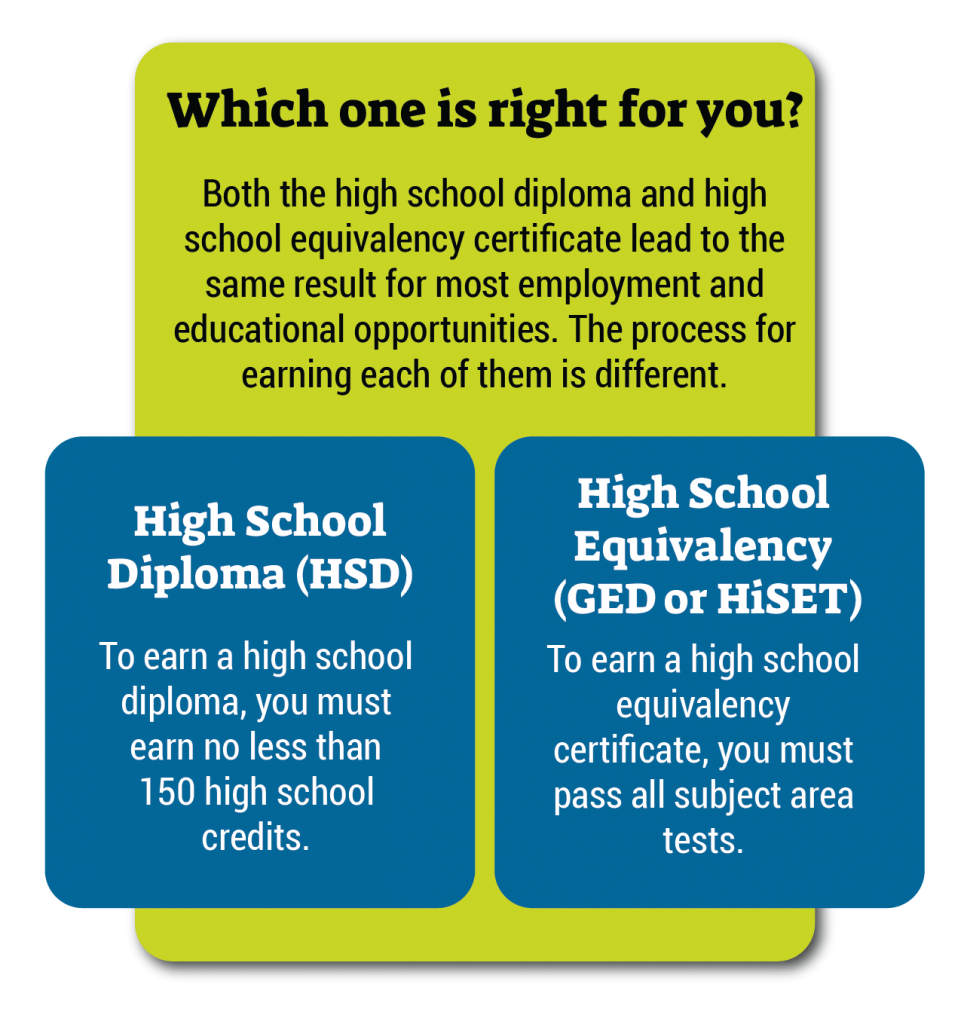 High School Diploma, GED and HISET
FAQ
Allows you to apply for jobs or apprenticeships that require it

Allows you to accomplish personal and career goals

Allows you to apply for more financial aid at community colleges (some aid may be available without a high school diploma or equivalency through other sources 

Although it is recommended, you do not have to earn a high school diploma or equivalency certificate in order to enroll in most classes at community colleges or adult schools
Both the high school diploma and high school equivalency certificate lead to the same result for most employment and educational opportunities. The process for earning each of them is different.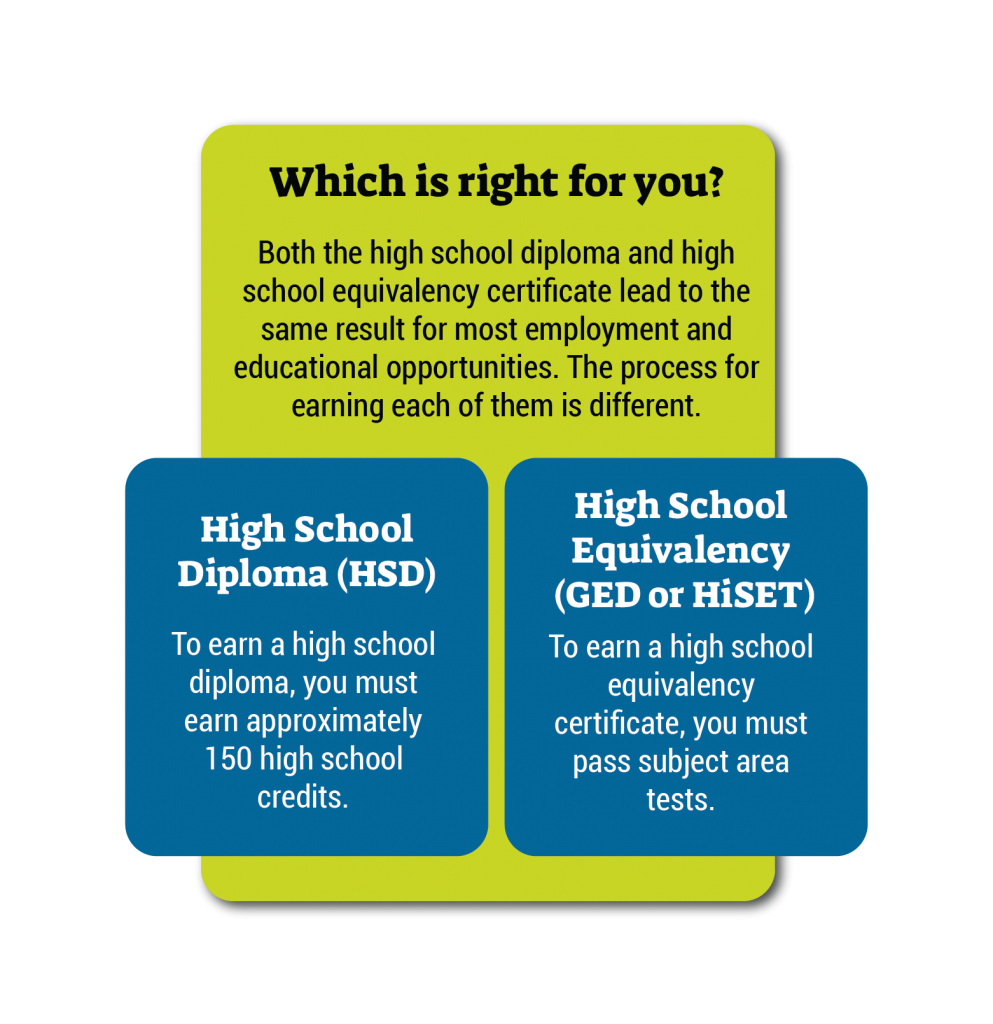 To determine the best choice for you, consider reflecting on the following questions and then engage in a conversation with an adult school counselor or transition specialist to discuss your answers:
How many high school credits do I have?

How soon do I want to complete my high school diploma or GED?

How much time do I have to invest in attending class, homework, and studying?

What do I want to do after completing the HSD or GED  program? 

What are my personal goals?

How do I feel about test taking?
High School Diploma
Your completion will depend on the number of credits you are available to take each semester and how many credits you may have already earned in the past. Students enrolled in the program can take 20-25 credits per semester. Typically, daytime, evening, and online classes are available. Most high school classes are 5 credits each.
High School Equivalency 
The more time you have to invest in preparing for the tests, the more quickly you will be ready to pass them. Preparation classes are available where you can study and take practice tests before taking the actual exam. Some schools offer independent study or online courses as well, which allows you to study at home. 
There are two equivalency options:
GED

requires passing four subject area tests: Reasoning in Language Arts, Mathematical Reasoning, Science and Social Studies. Writing skills are integrated throughout the tests.

HiSET

requires passing five subject tests: Language Arts:Reading, Language Arts:Writing, Mathematics, Science and Social Studies.
Dual Enrollment allows you to take community college classes for free while enrolled in a High School Diploma or Equivalency program. It's a great option to get a more advanced degree or better job in less time. Save money and earn your college degree faster!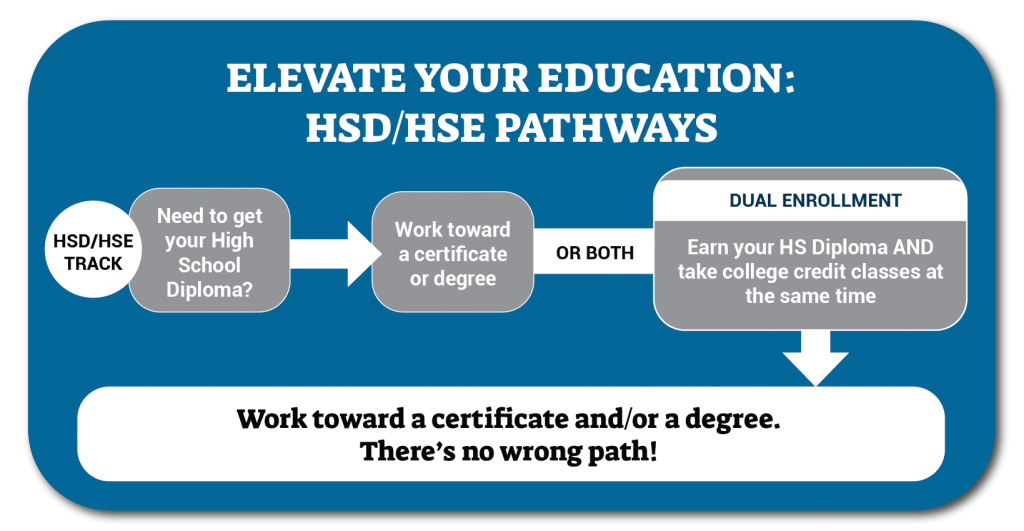 The first step is to contact the adult school you wish to attend. The steps may be slightly different at each school, but may include the following:
Take a placement test

Attend an orientation

Meet with a counselor

Enroll in classes
SCHOOL

PROGRAM OFFERED

CACE – Campbell Adult and Community Education

1224 Del Mar Avenue

San Jose, CA 95128

(408) 626-3402

HiSET Testing Center (computer based)

625 Educational Park Drive

San Jose, CA 95133

(408) 928-9300

Diploma equivalente a la escuela secundaria

1331 E Calaveras Blvd, Building 400

Milpitas, CA 95035

(408) 635-2692

1840 Benton Street

Santa Clara, CA 95050

(408) 423-3500

Silicon Valley Adult Education

760 Hillsdale Avenue, Room 1

San Jose, CA 95136

(408) 723-6450
All adult schools are accredited by the Western Association of Schools and Colleges (WASC).