Are you a parent or caregiver of school age children?
Do you want to help your children succeed in school? SBCAE members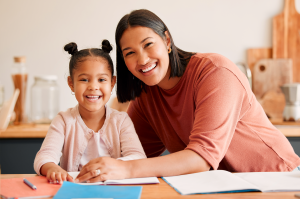 offer ESL classes for parents at K-12 school sites and have parenting classes at the adult school or community college. Some members even offer preschool programs on site! In addition, most Adult School ESL classes include lessons on understanding and navigating the US education system. 
Interested in a career in early childhood education? We offer different pathways for you to become a teacher assistant, childcare provider or para-educator. 
ESL classes at K-12 school sites
School District

Location

CUHSD

Rosemary Elementary School

ESUHSD

Robert F. Kennedy Elementary
Daniel Lairon College Prep Academy
Grail Family Services (GFS)

SCUSD

Kathleen McDonald High School
For more information, contact the school that offers the class. 
Parenting classes
Raising Resilient Children (Santa Clara Adult School)
Preschool
Wilson Preschool at the Santa Clara Adult School campus is a parent participation and parent education preschool where parents and children learn together. We use a developmentally-appropriate curriculum based on the HighScope model where children learn through hands-on experiences and active play. We respect and celebrate our families' diversity and provide a safe and nurturing environment. Parents actively participate in their children's classrooms once a week. Through their participation, parents learn ways to foster their children's social, emotional, physical, intellectual, and creative development.
Early Childhood Education Career Pathways
ECE pathway SCAE & Mission College